General Information
Year founded:
2000
This is the year the firm (or its earliest predecessor entity) was founded.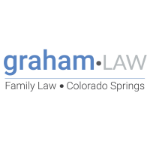 Overview
Content is provided by the firm.
Graham.Law is one of the largest & most prestigious family law firms in Colorado Springs. Our team focuses exclusively on Colorado divorce family law cases, including military divorce, in Colorado Springs & the 4th Judicial District (El Paso & Teller Counties).
That means that 100% of our resources, training, and experience are dedicated to family law. Our managing partner, Carl O. Graham, has over 30 years of litigation experience, has authored the Colorado Family Law Guide & the Military Divorce Guide, articles in Colorado Bar Association publications, and has taught family law attorneys at more than 25 CBA CLEs. Rated 10.0 Top Attorney in El Paso County by Avvo, one of the Best Lawyers in America by U.S. News & World Report, and Distinguished by Martindale-Hubbell.
Find out more about how Graham.Law can help your Colorado Springs family law case.
Rankings
Metro Rankings
Colorado, CO
Tier 1 for Family Law
Rankings
Metro Rankings
Colorado, CO
Tier 1 for Family Law
Practice Areas
The below are areas of legal specialty volunteered by the firm and do not designate a specialty in which a Best Law Firms ranking is held.
Individuals Recognized in The Best Lawyers in America®
{{ practiceAreaName }}
{{ lawyer.FirstName[0] }}{{ lawyer.LastName[0] }}
{{ lawyer.FirstName[0] }}{{ lawyer.LastName[0] }}
{{ lawyer.Locations[0].City }}, {{ lawyer.Locations[0].StateCode }}