General Information
Year founded:
1999
This is the year the firm (or its earliest predecessor entity) was founded.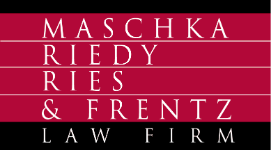 Overview
Content is provided by the firm.
Maschka, Riedy, Ries & Frentz Law Firm focuses on cases that require complex civil litigation with emphasis on personal injury law. Our Mankato, Minnesota office houses a team of eight lawyers and twelve support staff who are committed to working for clients who have suffered from a personal injury, wrongful death or medical malpractice. Our attorneys have handled nearly every type of personal injury case – from car and truck accidents and slip and falls to medical malpractice and traumatic brain injury. Personal injury jars your life. At Maschka, Riedy, Ries & Frentz, we help clients recover from unexpected, traumatic life events. Individuals and families rely on us to help them manage day-to-day challenges that result from a personal injury. We achieve justice for our clients so they are free to leave trauma behind and live fully again.
Our personal injury lawyers at Maschka, Riedy, Ries & Frentz Law Firm serve personal injury clients and those affected by wrongful death throughout Minnesota. This includes Mankato, Albert Lea, Blue Earth, Marshall, St. James, Austin, Fairmont, Minneapolis, New Ulm, North Mankato, Owatonna, Rochester, St. Peter, Waseca, Redwood Falls, and all other cities in Minnesota. We also have lawyers licensed to serve clients in South Dakota, Iowa, Florida, Missouri, and Illinois.
People and the healthy continuation of their lives are the reason for our work. Our personal injury lawyers work to ensure clients receive expertise, compassion, respect and clear direction. Issues are resolved, life is resumed.
We are particularly proud that lawyers who do not specialize in litigation or personal injury law ask us to represent their clients. We honor these partnerships and respectfully serve referred clients.
Together our attorneys bring 156 years of legal experience to client cases. This depth of experience, specialized personal injury knowledge, and a collaborative approach produce consistently successful client outcomes. Jerry Maschka and Renee Rubish were both recently included in this years edition of The Best Lawyers in America for Personal Injury law. Jerry Maschka, Renee Rubish, Nick Frentz, Jed Chronic & Nicholas Maxwell are "Super Lawyers" and Eric Iverson is a "Rising Star". Renee Rubish, Jerry Maschka and Nick Frentz are MSBA Board Certified Civil Trial Law Specialists and belong to the American Board of Trial Advocates.
Rankings
Metro Rankings
Minneapolis, MN
Tier 1 for Personal Injury Litigation - Plaintiffs
Rankings
Metro Rankings
Minneapolis, MN
Tier 1 for Personal Injury Litigation - Plaintiffs
Practice Areas
The below are areas of legal specialty volunteered by the firm and do not designate a specialty in which a Best Law Firms ranking is held.
Commercial Litigation
Litigation - Construction
Litigation - Trusts and Estates
Mass Tort Litigation / Class Actions - Plaintiffs
Mediation
Medical Malpractice Law - Plaintiffs
Personal Injury Litigation - Plaintiffs
Product Liability Litigation - Plaintiffs
Individuals Recognized in The Best Lawyers in America®
{{ practiceAreaName }}
{{ lawyer.FirstName[0] }}{{ lawyer.LastName[0] }}
{{ lawyer.FirstName[0] }}{{ lawyer.LastName[0] }}
{{ lawyer.Locations[0].City }}, {{ lawyer.Locations[0].StateCode }}
Demographics
Attorney Management / Department Heads