General Information
Year founded:
2016
This is the year the firm (or its earliest predecessor entity) was founded.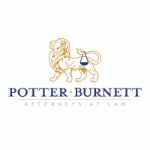 Overview
Content is provided by the firm.
At Potter Burnett Law, our philosophy is simple – People over power! We pride ourselves on representing the people of our community against big business insurance companies who are only out to make a profit for their CEOs and shareholders at the expense of injured victims. Potter Burnett Law is a leader in the field of personal injury and is dedicated to protecting victims.
Our pride of attorneys has over 40 years of experience handling complex personal injury cases for people from all walks of life. Big insurances companies know that we have a proven track record of success and that we are not afraid to take a case to trial in order to achieve the best and fairest result possible.
Potter Burnett Law was formed by Deborah L. Potter, Suzanne V. Burnett and Andrew T. Burnett. The boutique firm is located in Bowie in Prince George's County, Maryland. The firm was purposely designed to be intimate so that each client would know the attorney involved and feel that they are a part of our pride. Being located in Bowie, Maryland, we are conveniently located near I- 495, I-295, Route 50 which allows us to protect victims of negligence throughout the Maryland and D.C area.
Debbie Potter first made a name for herself with a 26-million-dollar verdict against Ford Motor Company in 1996. She has handled thousands of car crash cases throughout MD and DC. With our aging population and so many individuals in nursing care and assisted living facilities, Debbie has also established a nursing home negligence practice in order to protect elderly victims from poor care and abuse. Suzanne Burnett has been in practice with Debbie since the beginning of her legal career, also exclusively representing the injured. Suzanne's focus is on car and truck crash cases and she is passionate about obtaining justice for her clients. Andrew Burnett brings to the firm his litigation and trial experience from years in the Anne Arundel County State's Attorney's Office and a prominent malpractice litigation firm. Andrew's practice is focused on nursing home abuse and neglect and medical mistakes and malpractice.
Rankings
Metro Rankings
Washington, D.C., MD
Tier 2 for Personal Injury Litigation - Plaintiffs
Rankings
Metro Rankings
Washington, D.C., MD
Tier 2 for Personal Injury Litigation - Plaintiffs
Practice Areas
The below are areas of legal specialty volunteered by the firm and do not designate a specialty in which a Best Law Firms ranking is held.
Consumer Protection Law
Elder Law
Health Care Law
Medical Malpractice Law - Plaintiffs
Personal Injury Litigation - Plaintiffs
Individuals Recognized in The Best Lawyers in America®
{{ practiceAreaName }}
{{ lawyer.FirstName[0] }}{{ lawyer.LastName[0] }}
{{ lawyer.FirstName[0] }}{{ lawyer.LastName[0] }}
{{ lawyer.Locations[0].City }}, {{ lawyer.Locations[0].StateCode }}