General Information
Year founded:
1962
This is the year the firm (or its earliest predecessor entity) was founded.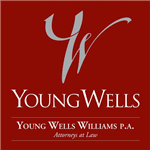 Overview
Content is provided by the firm.
Young Wells Williams P.A. provides sophisticated, individualized service to a very diverse clientele, from individuals to family businesses and Fortune 500 companies. We're as comfortable on Wall Street as we are on Main Street. We provide practical, straightforward answers to client's questions, rather than complicate the situation by redefining the problem. We offer a depth and breadth of knowledge and experience similar to those of much larger firms, yet on a more personal level.
Rankings
Metro Rankings
Jackson-MS, MS
Tier 2 for Corporate Law
Tier 2 for Tax Law
Tier 2 for Trusts and Estates
Tier 3 for Employee Benefits (ERISA) Law
Firm Leadership
Select Clients
Abbey Bridges Construction Co., LLC
Acoustics, Inc.
American Federated Insurance Company
American Federated Life Insurance Company
Arrow Global Asset Disposition, Inc.
Automated Power
Battery Solutions, LLC
Benchmark Construction Corporation
Bracken Construction Company
C. Perry Builders, Inc.
Cal-Maine Foods, Inc.
Capital Bolt and Screw Company
Centennial Healthcare Corporation
Charlie Graingers of MS
Chickamauga Telephone Company
Chris Albritton Construction Company
Community Bank, Forest & Indianola
Conerly Construction, Inc.
Continuum 700 LLC
Contractors Material, Inc.
Daniel Hardwood Floors, Inc.
E. Cornell Malone Corporation
Ellis Steel Company, Inc.
Equilease Financial Services Corp.
Fail Telecommunication Corporation
First Commercial Bank
Flora Oil Company, LLC
Fulton Telephone Corporation
Hancock Bank
Hemphill Construction Co., Inc.
Highland Village
Irby Construction Company
Jefferson Davis County, Mississippi
Jeffocat Fence Co., Inc.
Klumb Lumber Company
Knowles Material Company
Komatsu Financial
Madison County Library System
Madison Planting & Design Group
Malone Roofing Service, LLC
Miller Lumber Sales Company
Mississippi Baptist Health Systems, Inc.
Mississippi Methodist Rehabilitation Center
Mississippi Paving & Construction, Inc.
Mississippi Tort Claims Board
MMI of Mississippi, Inc.
Mound Bayou Telephone and Communications, Inc.
Neches Oil and Gas, LLC
NexBand Communications, Inc.
Nicholas Acoustics, Inc.
Nova Towers Holdings I, LLC
Old River Truck Sales, Inc.
On-Site Fuel Service, Inc.
Origen Bank
Performance Drilling Company, LLC
Pinnacle Trust Company, LLC
Prairie Construction, LLC
Pristine Environments, Inc.
Progressive Pipeline Construction, LLC
Providence Plantation, L.P.
Pug Power
Regions Bank
Robot Coupe, U.S.A.
SafeMeds Solutions, LLC
Segway Properties
Service Electrical and Machinery, LLC
Southern Diversified Technology
Southern Rock, LLC
Southland Oil Corporation
Stewart Title Insurance Company
Stuart C. Irby Company
Suncoast Infrastructures, Inc.
The Blair Companies
Tower Loan of Mississippi, Inc.
Town of Prentiss, Mississippi
Trans America Commercial Finance
Tristar Licensing Group, LLC
TriStar Technologies, LLC
Tstar 600, LLC
Wellington Associates
Wells Fargo Acceptance Corporation
Wells Fargo Bank
Wright's Cabinet Shops, Inc.
Yazoo City Public Service Commission
Rankings
Metro Rankings
Jackson-MS, MS
Tier 2 for Corporate Law
Tier 2 for Tax Law
Tier 2 for Trusts and Estates
Tier 3 for Employee Benefits (ERISA) Law
Practice Areas
The below are areas of legal specialty volunteered by the firm and do not designate a specialty in which a Best Law Firms ranking is held.
Arbitration
Commercial Litigation
Corporate Law
Employee Benefits (ERISA) Law
Litigation - Construction
Litigation - Real Estate
Tax Law
Individuals Recognized in The Best Lawyers in America®
{{ practiceAreaName }}
{{ lawyer.FirstName[0] }}{{ lawyer.LastName[0] }}
{{ lawyer.FirstName[0] }}{{ lawyer.LastName[0] }}
{{ lawyer.Locations[0].City }}, {{ lawyer.Locations[0].StateCode }}